Faith is Mind Changing
As a child, at home and church I learnt all about Jesus! But only in my -teens when I read the gospel with new eyes, was I deeply and permanently captivated by this man. His being his own man struck me. I wanted to have the same integrity and strength. His story set me thinking.
Jesus was a sign of contradiction, as Simeon pronounced at his Temple presentation. His parents were perplexed by the independence of their young teenager; his 'church' friends were first amazed then angry; when Jesus talked with strangers, like the woman of Samaria the disciples wondered why. So did she! The Pharisees saw him as a dangerous pied piper. He boldly quoted scripture and then said; 'But I say..'
The gospels say that both John and Jesus preached repentance. This is not about being a groveling sinner. No! it is about thinking differently, The Greek metanoia is literally a change of mind. At the heart of our faith tradition is the challenge to think differently. What about?
1. Seeing others differently is one of our journeys, the Indigenous, the Catholic, the Buddhist, the refugees, the 'deplorables'. Are we able to see the potential, the holy in the lives of others who are different, and support change to assist them.
2. Thinking about ourselves differently as a congregation: In Lilydale, a lay preacher once affirmed: 'We don't do nice' eg to please others, instead we aim to be candid and real, to own and love our differences as gift. We are not gate keepers of divine salvation but pilgrims with all people on a path of shared wisdom and mutual learning.
3. Thinking of oneself differently. Maybe with Barak Obama 'Yes we can' – EVERYONE has capacity to enrich others and to change the world. Maybe to live simply that others may simply live, a favourite of Ghandi.
4. Think of the natural world differently, save threatened species, reduce our carbon emissions, plant a tomato in the flowerbed, install solar, ride a bicycle, take the tram.
5. Think differently about our pain. During Lent we ponder the way that Jesus' provocations took him to an early death. Like him each of us has been misunderstood and hurt by good people. Lent is a time to see our pain as the potential for more sensitivity and more fruitful living.
As we change our thinking about our pain we will experience what Jesus said to many: Your faith has made you whole'. We will become whole people enriched by both joys and pain.
Like Jesus, may we see the divine in the life of every other person. May Jesus never cease to be a sign of contradiction to us. May we rise above every trial by choosing faith and hope for living, as we follow in the way of Jesus.
"I'm changing my mind!"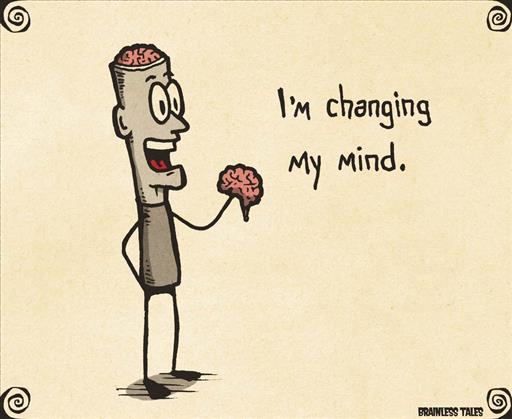 Image by Brainless Tales: http://www.brainlesstales.com/