In my first church, late 70s there was Mrs Munro who said that keeping the Ten Commandments was at the heart of true religion. So why did Martin Luther teach that Jewish Law and Grace in Christ are total opposites? The Psalms tell us that Israelites delighted in God's law (see Pss 1 & 119). Is the Law a burden, or a delight and gift to us?
In the Hebrew Bible, the term 'commandment' is frequent. But we find in Exodus 20: 'Ten Words, emphasizing divine origin rather than human obligation. Another version appears in Exod. 34.28, which Moses wrote after he smashed the first lot in anger when he found the Israelites worshipping the golden calf. The Words of Exod 20 are repeated in Deut. 5 as covenant rules. Are they still relevant for us?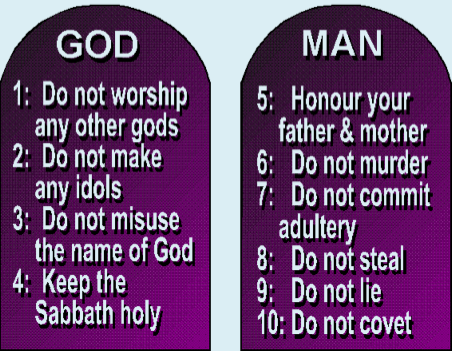 Two divisions: 1) The majority of 6 are about relations with others but are they any help with social law about contraception, gay marriage and euthanasia? The first four prioritise our relationship with 'God'. For us this is not about choosing gods but honouring life as a sacred gift. That view can transform our relationships with others, without need of rules.
2) Out of the ten there are 8 prohibitions but only two requirements. Which do you prefer? The prohibitions are like fence posts that set boundaries for behaviour but leave us free to be responsible. But Nos. 4 & 5 expect action. Keeping Sabbath honours our faith. Honouring parents represents genuine respect for everyone we meet. Nos. 4 & 5 remind us of Jesus' summary of all the Law: love God (Deut.6) and love your neighbour as yourself (Lev. 19).
But Jesus focused the Law and raised the bar. In the gospel he asks: "What good is it if we love only those who love us back?" It teaches: "Do good to those who treat you badly". The gospel transcends the Golden Rule. The hyperbole and difficulty of this LAW suggests to scholars that it is probably an authentic teaching of Jesus.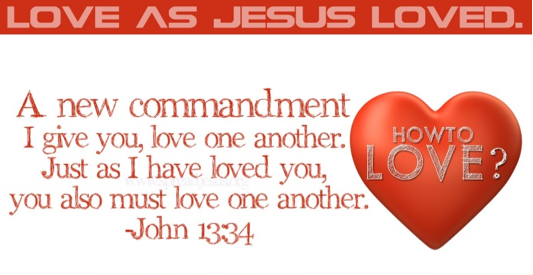 Jesus also distilled the Ten Words into one! 'Love one another as I have loved you'. Our journey in Lent towards Easter is a grappling with this most challenging ethic, that of pouring out our love for others, a life of relinquishment. Such a life raises the issue of what boundaries to draw? We need the wisdom of others on our path.
The motivation that begins the Ten Words is the claim: 'I am the Lord who brought you out of Egypt' The motivation of the gospel is the self-giving love displayed in the life of Jesus. Living and loving in his Way, we fulfill the ten commandments, and the two, and the one.